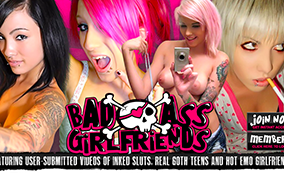 Badass Girlfriends was a site that was started in 2013 and is part of the Amateur GF Network which has been growing with time. The site targets all those who have a fetish for the wild, tatted and pierced cock sucking girl who can do the things other girls can't. It's obviously a hardcore site; the front page is courteous enough to warn all those below 18 to leave. There are images of some of the girls, all have heavy make up and one has a cigarette with most of them looking like they came out of an evanescence video. The average video is 5 minutes long.
Content
On entering the main page you will be flooded with movie clips to choose from but you have to pay to view nothing's free here. There is a one day $1 trial option available which will come with access to the other sites on the network. The videos are not HD and the site has mainly white actors although there are some of other races. The emo girls don't look professional but they are hot, they look more like the girl next door if she added some tattoos and piercings. The tattoos can't be missed; most of them look like living works of art with their ink covering their whole body, this is where Da Vinci went to after he got tired with the renaissance and all. The videos are not in any particular place but majority look like they were shot in the girl's own bedroom. There is also no particular style it's all there: anal, cock sucking, lesbian and more. Navigation is not easy as there is no navigation tool to scroll through older videos. There is also no search engine to aid with accessing specific content. The videos are not updated frequently and perhaps this is the real reason for the lack of navigation tools. The babes are the real reason to visit the site but even the pictures are not high resolution which is disappointing, it's one thing to miss HD videos but lack of quality photos can't be defended. There is the consolation that subscription to it will get you access to 20 other sites on the Amateur GF Network such as My Ebony GF, My GF loves Anal, Sluts With Phones, Dirty Wives Exposed, Indian GF Videos and more. The site is not interactive, there is no way to leave comments or rate videos, you pay and you watch nothing more.
Positives
These girls are badass there is no doubt that they could fulfill every fantasy you've had and would probably inspire some new ones. Whatever the site lacks in fancy design it makes up for with quality actors, these are the cutest emos ever. Subscription to the site also gives you access to 20 other sites which is a big benefit. The videos are on many different themes so boredom will not set in for a long time.
Negatives
First of all the sites navigation is the biggest problem there is with no way to view older videos or to even search through their archives. The video and image quality also needs to be improved for it to be competitive. Badass Girlfriends needs a better site layout, the current layout looks old and this must be discouraging many people from joining, it's a warning that the content is old too. Updates are also not on a frequent basis and the videos are too short.  When subscribing it is important to make sure that you only subscribe for what you want there is a real risk of hidden services being charged to your account.
Conclusion
Badass Girlfriends is a website that was started in 2013 focusing mainly on the theme of emo girls being naughty. The girls on the site put on a good show in spite of the low technology used and would attract a decent crowd however the site has an outdated layout that repeals any first time visitor. Subscription to the site gets you subscription to 20 other sites but care must be taken not to subscribe to other material. The charges are fair for the site but it still needs to improve as clients can quickly run out of material to watch.
Parting Shot
The site has a good premise and actors but it needs a lot more to grow. I'd subscribe to join the network not for the site alone.
Subscription rates
1 Day trial version – $1
1 Month – $27.95
3 Months – $59.97 (19.99/ month)